You are here
Back to top
The Official Bob's Burgers Coloring Book (Paperback)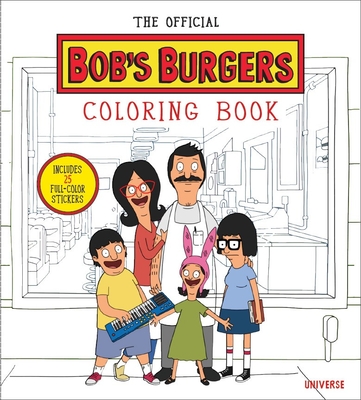 $16.95
Email or call for price
Description
---
The first and only coloring book based on Fox's
Emmy-winning animated hit TV show.
 
Crossing the line from line art to Pop Art, The Official Bob's Burgers Coloring Book follows in the best-selling pop-culture coloring book footsteps of Star Wars, Game of Thrones, Doctor Who, The Walking Dead, and Outlander. This collection serves up not only images of the best moments of the show, but also enough puns and fun to have the show's ravenous fans salivating with hunger and hilarity. Bob's Burgers is enjoying a true pop- cultural moment, with an original comic-book version by Dynamite Entertainment still setting records since its launch in 2014, a soundtrack album of original music from the series featuring music from indie band Sleater-Kinney (Portlandia's Carrie Brownstein), and now an ongoing, multi- city live tour that presents the cast and crew re- creating some of the most popular episodes in front of packed houses across the country.
About the Author
---
Loren Bouchard is an Emmy-winning writer and producer and creator of Bob's Burgers, Home Movies, and Dr. Katz, Professional Therapist.
Praise For…
---
"For cartoon lovers—specifically lovers of Bob's Burgers—there's now an official coloring book featuring the beloved Belchers and their many adventures. Grab some crayons and color all your favorite characters in a variety of amusing situations, from striking power poses to dressing up for Halloween."
—Mental Floss

". . . it will feature 96 pages of classic Bob's Burgers scenes that you can color at your leisure. The book also comes with 25 stickers which should come in handy when you want to post your colored-in sketches on your mom's fridge."
—Bubbleblabber.com

"From the publishers of the best-selling cookbook [The Bob's Burgers Burger Book], Rizzoli brings us 85 line drawings featuring the pun-derful Bob, Linda, Tina, Gene, Louise and other favorite characters." 
—FoodRepublic.com 

"Bob's Burgers fans will flip for this hilarious (and official!) coloring book dedicated to the Emmy-winning Fox animated show."
—Parade

"A coloring book for the person who can't paint a word picture."
—Buzzfeed

"[The Official Bob's Burgers Coloring Book] is the first and only coloring book based on Fox's animated program. This collection serves up over 85 line-drawings featuring the entire Belcher clan plus friends, neighbors, locations, and burgers. Includes 25 full-color stickers to decorate as you see fit."
—Arlington Advocate

"Bob's Burgers is a popular thing that you can now put colors into if you want to!"
—Ain't It Cool News  

"This collection serves up not only images of the best moments of the show, but also enough puns and fun to have the show's ravenous fans salivating with hunger and hilarity. Bob's Burgers is enjoying a true pop- cultural moment, with an original comic-book version by Dynamite Entertainment still setting records since its launch in 2014, a soundtrack album of original music from the series featuring music from indie band Sleater-Kinney (Portlandia's Carrie Brownstein), and now an ongoing, multi- city live tour that presents the cast and crew re- creating some of the most popular episodes in front of packed houses across the country."
—ForcesofGeek.com