You are here
Back to top
Dear Committee Members (Paperback)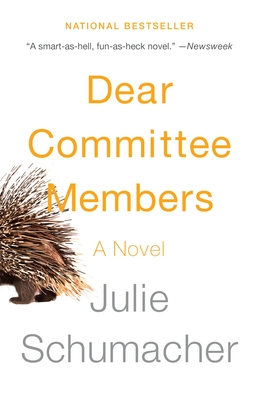 $16.00

Usually Ships in 1-5 Days
Description
---
A Best Book of the Year:  NPR and Boston Globe

Finally a novel that puts the "pissed" back into "epistolary."

Jason Fitger is a beleaguered professor of creative writing and literature at Payne University, a small and not very distinguished liberal arts college in the midwest. His department is facing draconian cuts and squalid quarters, while one floor above them the Economics Department is getting lavishly remodeled offices. His once-promising writing career is in the doldrums, as is his romantic life, in part as the result of his unwise use of his private affairs for his novels. His star (he thinks) student can't catch a break with his brilliant (he thinks) work Accountant in a Bordello, based on Melville's Bartleby. In short, his life is a tale of woe, and the vehicle this droll and inventive novel uses to tell that tale is a series of hilarious letters of recommendation that Fitger is endlessly called upon by his students and colleagues to produce, each one of which is a small masterpiece of high dudgeon, low spirits, and passive-aggressive strategies. We recommend Dear Committee Members to you in the strongest possible terms.
About the Author
---
Julie Schumacher grew up in Wilmington, Delaware, and graduated from Oberlin College and Cornell University. Her first novel, The Body Is Water, was published by Soho Press in 1995 and was an ALA Notable Book of the Year and a finalist for the PEN/Hemingway Award. Her other books include a short story collection, An Explanation for Chaos, and five books for younger readers. She lives in St. Paul and is a faculty member in the Creative Writing Program and the Department of English at the University of Minnesota. 

Visit her on the web at julieschumacher.com.
Praise For…
---
A Best Book of the Year:  NPR and Boston Globe

Praise for Dear Committee Members:

"After years of teaching, I write a lot of recommendation letters, and Schumacher's parodies sound alarmingly close to the real thing." —Claire Messud, The Guardian 
"A hilarious academic novel that'll send you laughing (albeit ruefully) back into the trenches of the classroom. . . . [A] mordant minor masterpiece. . . . Like the best works of farce, academic or otherwise, Dear Committee Members deftly mixes comedy with social criticism and righteous outrage. By the end, you may well find yourself laughing so hard it hurts." —Maureen Corrigan, NPR

"If you like academic satires, you'll love this novel, which is written as a series of recommendation letters by a cranky, long-suffering English professor. Like Richard Russo's Straight Man this book has a lot to say about the humanities in American colleges and universities. It's very funny and also moving." —Tom Perrotta "In My Library", New York Post

"For that reason, I entreat you, now that you've reviewed my précis, to read Ms. Schumacher's book. It is easily consumed in small pieces, like a tray of sweets and savories. It is ideal for passing the time between innings of a baseball game, waiting for a long red light to change, or sitting in a warm bath. As for Jason Fitger, I implore you to take a leap of faith and offer him admission to your next available residency. The worlds of business and academia will be poorer for lack of his letters, but perhaps, with your support, he can find a way to channel his energy and inventiveness into a new novel—one that will hopefully be as entertaining and as sharply written as Julie Schumacher's Dear Committee Members." —Jon Michaud, The New Yorker

"A smart-as-hell, fun-as-heck novel composed entirely of recommendation letters. . . . Beyond the moribund state of academia, Schumacher touches on more universal themes about growing old and facing failure: not necessarily the dramatic failure of a batter striking out with two on and two out in the  bottom of the ninth, but the quieter failure that accrues over time, until we are finally forced to admit that we are not who we wanted to become." —Alexander Nazaryan, Newsweek

"The book is hilarious. . . . [Schumacher's] scabrous book reminds me of Sam Lipsyte's Home Land, Richard Russo's Straight Man and Jincy Willett's Winner of the National Book Award. If you didn't find those books funny, well, that means you're a corpse. But you're also, apparently, a corpse who reads, so there's hope for you yet. You should read Dear Committee Members; maybe it will bring you back to life." —Brock Clarke, The New York Times Book Review

"Bitterly hilarious. If you are looking for a witty, original cri de coeur over the oft-lamented decline of the humanities, I urgently recommend this novel." —Sam Sacks, The Wall Street Journal

"Julie Schumacher's Dear Committee Members is the best sort of novel: the laugh-out-loud page-turner that also bleeds and breathes, the satire you want to quote to friends, the book that lets you in on the joke so you can better see the truth of the world." —The Rumpus

"A funny and lacerating novel of academia written in the form of letters of recommendation. . .  .Dear Committee Members isn't really an academic novel, or even an academic satire. It's a sincere exploration of the depths and breadths of human selfishness, and the contemporary American academy is simply the backdrop. . . . So in the end, it is exactly Fitger's selfishness that destructs, rather than his life—and although his semi-redemption may not redeem the rank carcass of academic culture that continues to fester around him, it's more than enough to recommend this mischievous novel." —Slate

"[A] richly sardonic epistolary volume." —San Francisco Chronicle

"The beauty of Dear Committee Members is that Fitger is not just an eloquent professor with a poison pen. He's previously alienated quite a few of the people whose favor he attempts to curry here, his ex-wife and ex-girlfriend included, and he has a habit of compounding the insults anew with each communication. But for all his corrosiveness, he's actually one of the good guys: a generous defender of gifted students, underappreciated colleagues, and fine scholarship. He's a romantic, really, a champion of academia. And he does love being a writer, 'which, despite its horrors, is possibly one of the few sorts of lives worth living at all.'"  —The Boston Globe 

"Each letter Fitger writes is imbued with the wisdom and comic chops that make Schumacher a wonderfully entertaining writer. Let this review serve as an LOR for Dear Committee Members. If there's one thing new grads need in addition to the congratulatory check or gift card, it's a few good laughs before reality sets in." —Minneapolis Star Tribune

"If Fitger wrote only sarcastic letters, that would be one thing, but in this short tome a man appears between the zingers... Be sure to tag this book with 'for fans of David Foster Wallace.'" —Milwaukee Journal Sentinel

"Lest you conclude I am merely impressed by a humorous, well-handled gimmick, let me assure you that Ms. Schumacher brilliantly lays bare the tale of Fitger's stalled career, failed love life, and quixotic championing of a student and his unfinished novel. "Dear Committee Members" ends with a blend of sadness and quiet hope that I did not anticipate, but found wholly satisfying.  In short, I recommend Dear Committee Members without hesitation or caveat." —The Iowa Gazette

"A hilarious and surprisingly poignant pleasure to read." —Houston Chronicle

"Schumacher's satire of the petty rivalries, byzantine hierarchies and committee meetings is spot on—scathing and laugh-out-loud funny."  —The Wichita Eagle

"As back-to-school entertainment, Dear Committee Members hits the spot." —Santa Fe New Mexican

"[A] very funny epistolary novel composed of recommendation letters. . . . It's an unusual form for comedy, but it works. Truth is stranger than fiction in this acid satire of the academic doldrums." —Kirkus Reviews

"Schumacher's warm satire of the peculiarities of the Ivory Tower will be recognizable to anyone who has encountered the bureaucracy and internal politics of higher education." —Booklist

"A creative writing professor herself, Schumacher crafts a suitably verbose but sympathetic voice for Fitger, a man who exudes both humor and heart." —Publishers Weekly

"The letters have many funny touches, which carry the novel. The best touches, though, have to do with students. More than a third of the letters recommend students for jobs, and one chord that runs throughout is that they face dubious prospects. . . . It's not a good time to be an English major, and Fitger's concern for his students redeems his otherwise questionably epistolary etiquette." —Chronicle of Higher Education

"Schumacher revitalizes an under—or maybe just unappreciated art form. . . . [Her] tone is warm and her insight into academia incisive." —Bookish.com

"A clever epistolary send-up of academic logrolling." —Shelf Awareness

"Let's not look at this as an epistolary novel about the academic world, but as a laying out of the Tarot cards of our society's past and future. It's that indicative. That important. In the end, the future looks not quite so grim, but my reading is that like so many novels that investigate independence and fierce belief (with Melville in the lead), we have to read between the lines, infer, assume, and hope that the American virtues of compassion, empathy, and even wild projection will continue. This is a funny, very sad, disarming novel. My pitch to Hollywood would be: David Markson's Wittgenstein's Mistress meets Padgett Powell's The Interrogative Mood but—and here I'm just another expendable would-be savior, like Ms. Schumacher's character Jay Fitger—nobody would know what I was talking about. My hat's off to the author of this flawlessly written, highwire act of a book. Hollywood be damned." —Ann Beattie, author of Chilly Scenes of Winter and The New Yorker Stories

"Dear Committee Members is a brilliant book that, in my head, sits comfortably on my prized shelf of academic novels, right between Lucky Jim and Pictures from an Institution. But it's funnier than either, and more wrenching in the end. The conceit of a novel told in letters of reference is inspired, and it is killingly funny because it's all so killingly true. Truth walks here in the strangest of costumes, and in part because of its guises, we can face it, frown, laugh, cry. I've never lost an afternoon so happily." —Jay Parini, author of The Last Station and The Passages of H.M.
 
"Julie Schumacher has perfectly rendered a portrait of the artist not as a young man but as the beleaguered tenured has-been surly lovable anachronistic man he's become. At once satire and tribute, the book alludes to a time in America's past both in literature and academia, and the passage of that heady heyday is hilariously—and bittersweetly—displayed in this genius borrowed form. Never have letters of recommendation made me happier to encounter them."  —Antonya Nelson, author of Funny Once: Stories and Bound